The life changing high-tech health monitor
Check your vitals anytime anywhere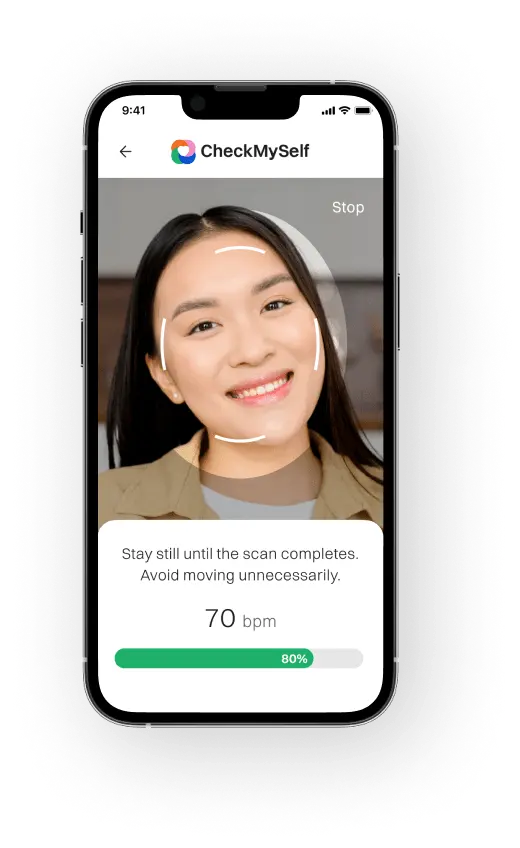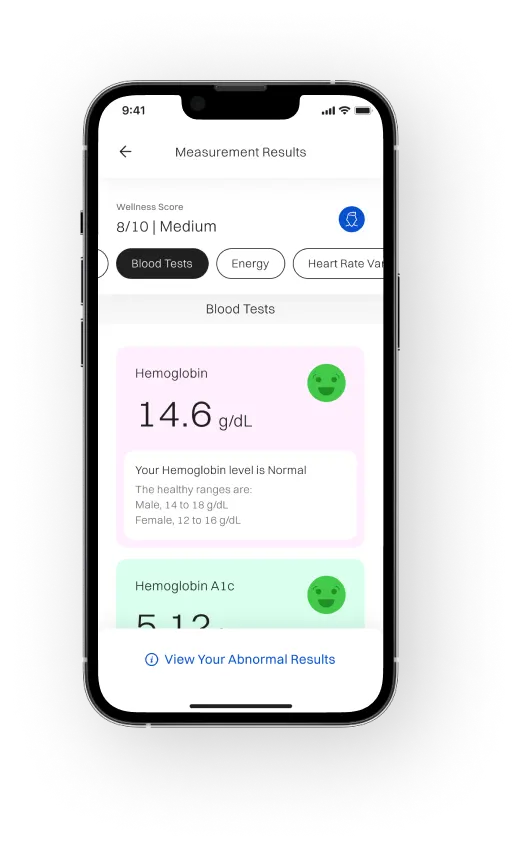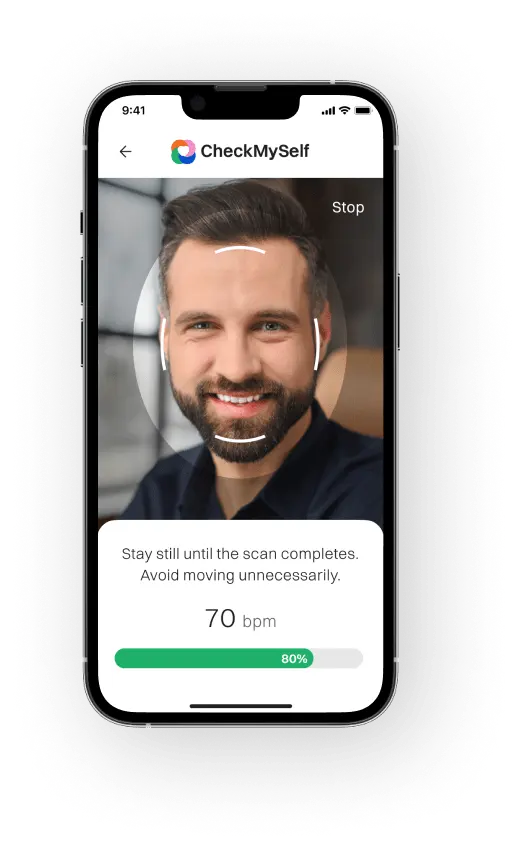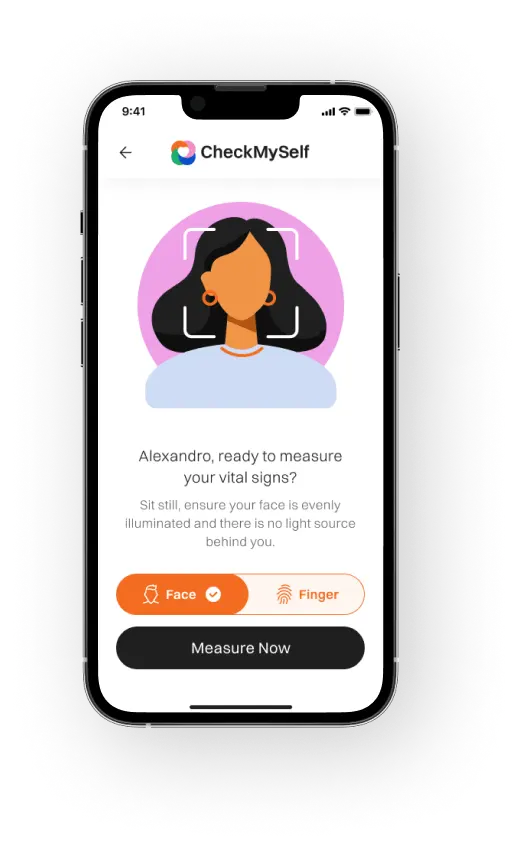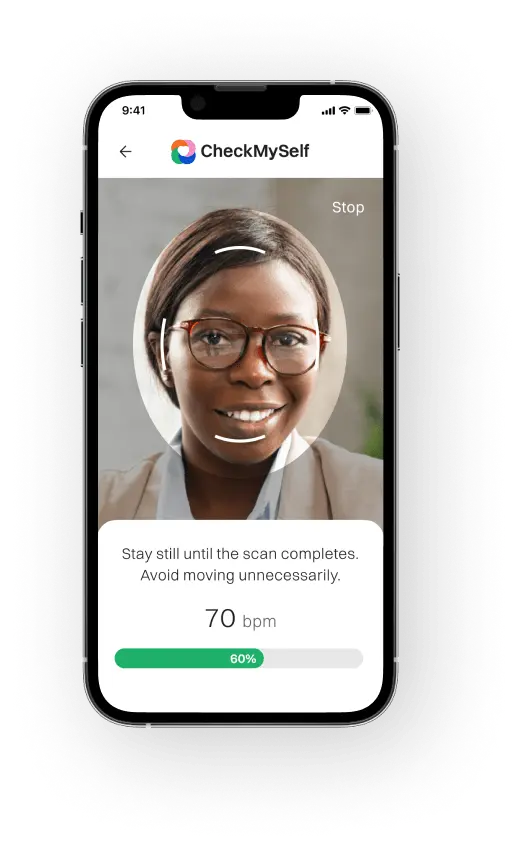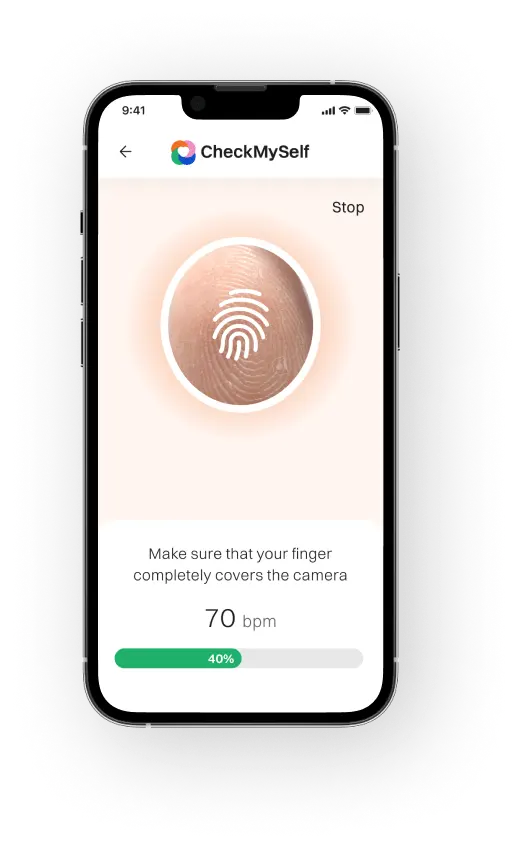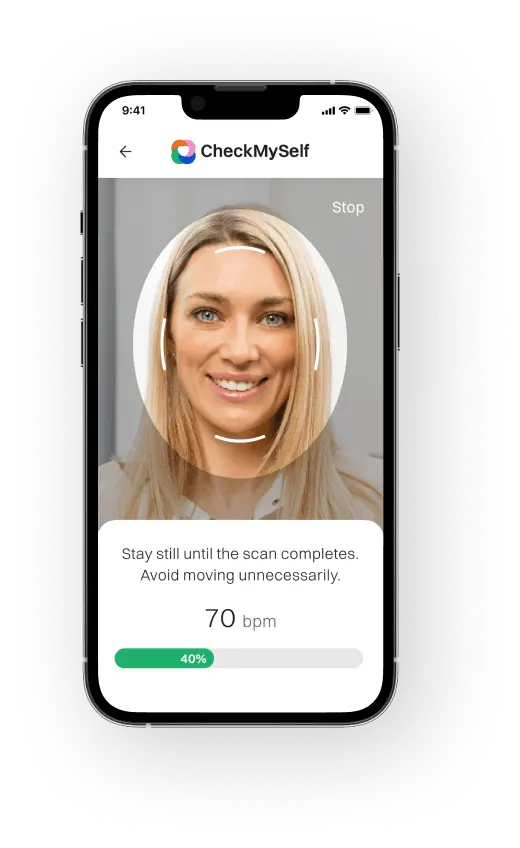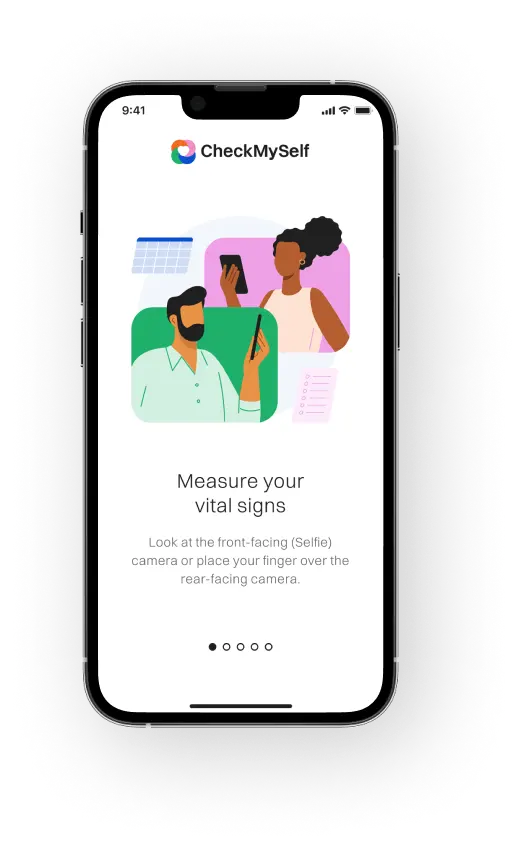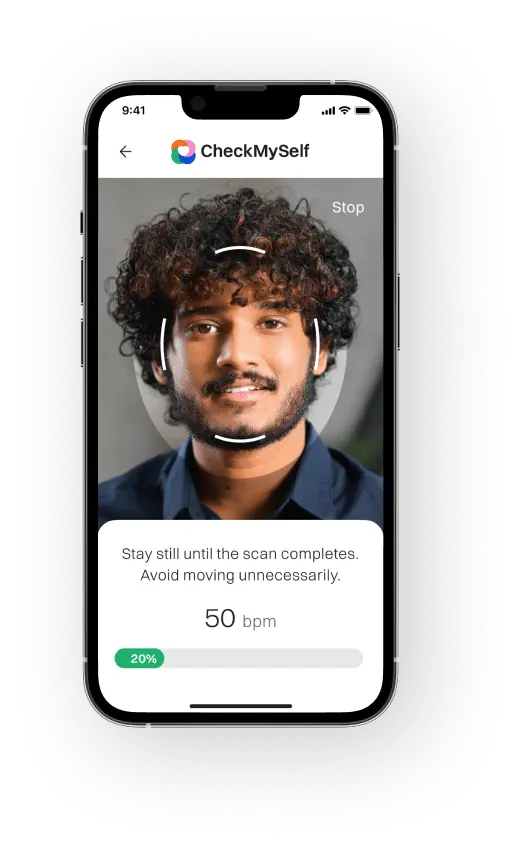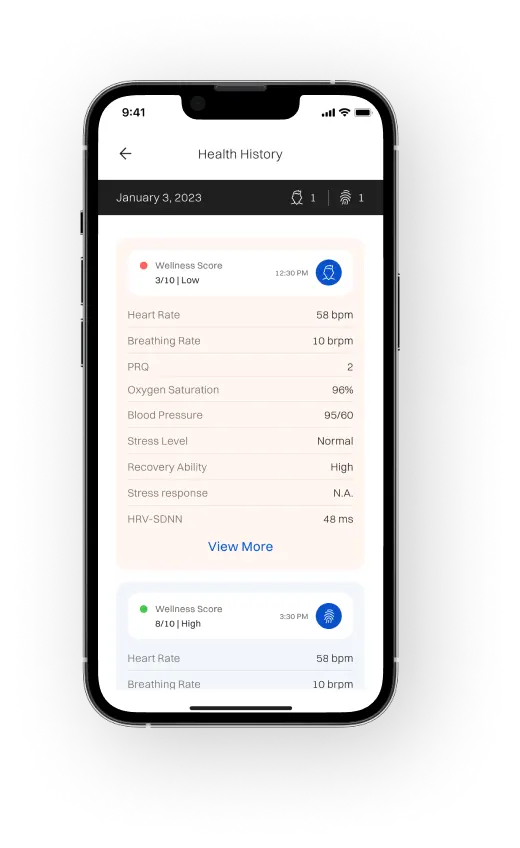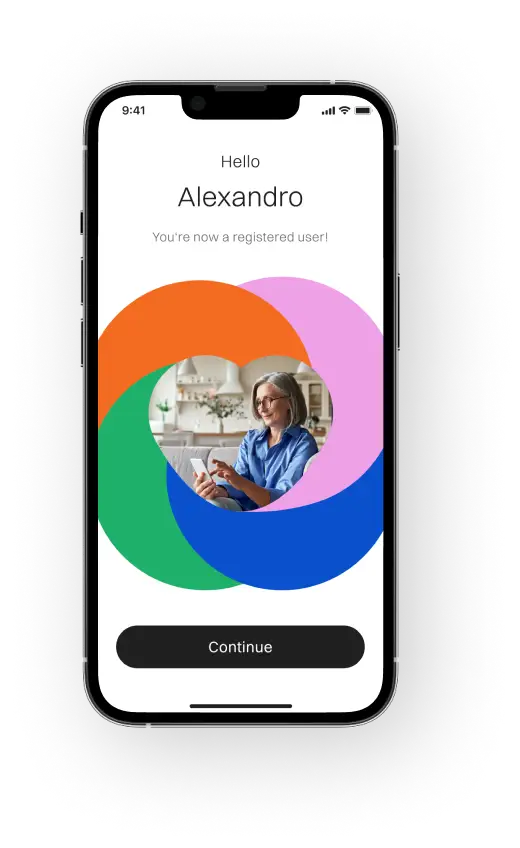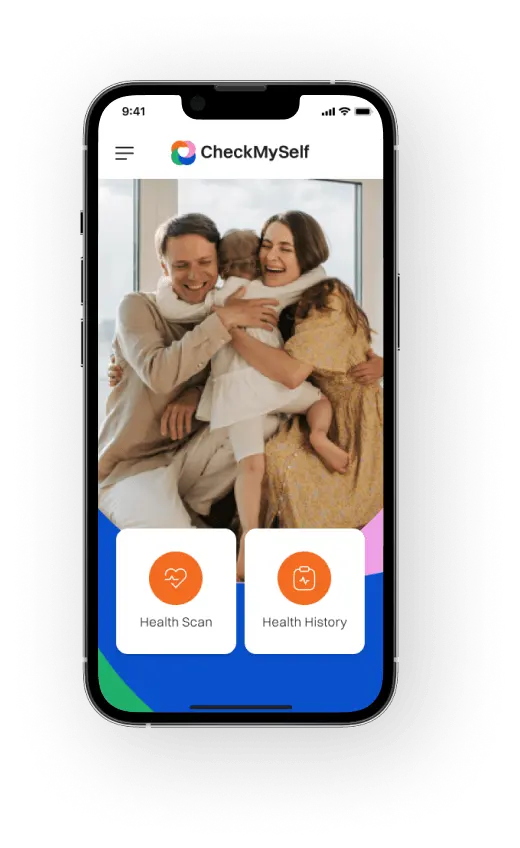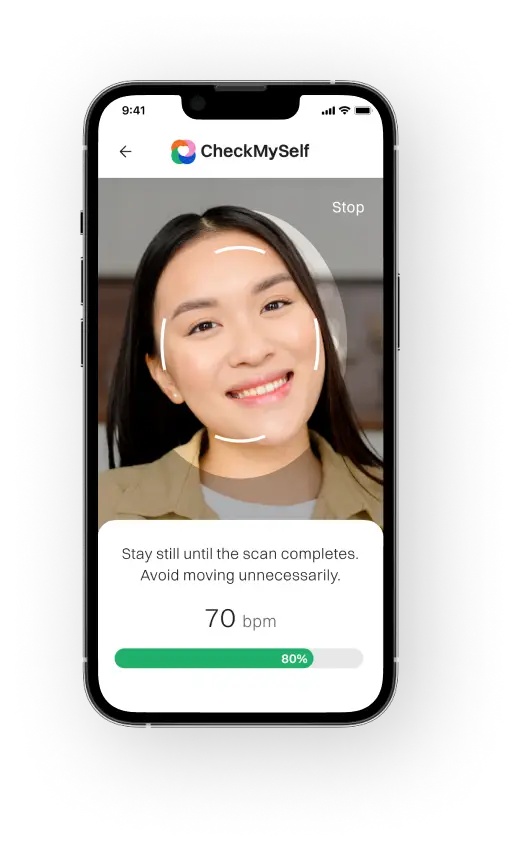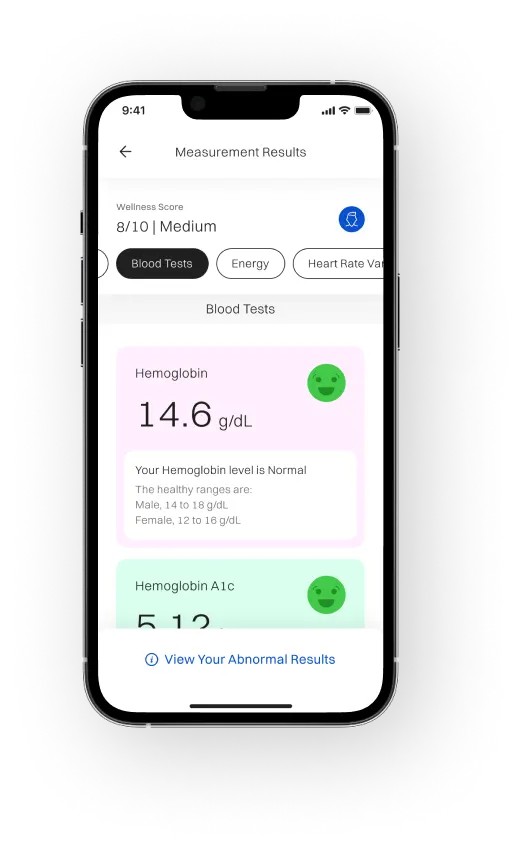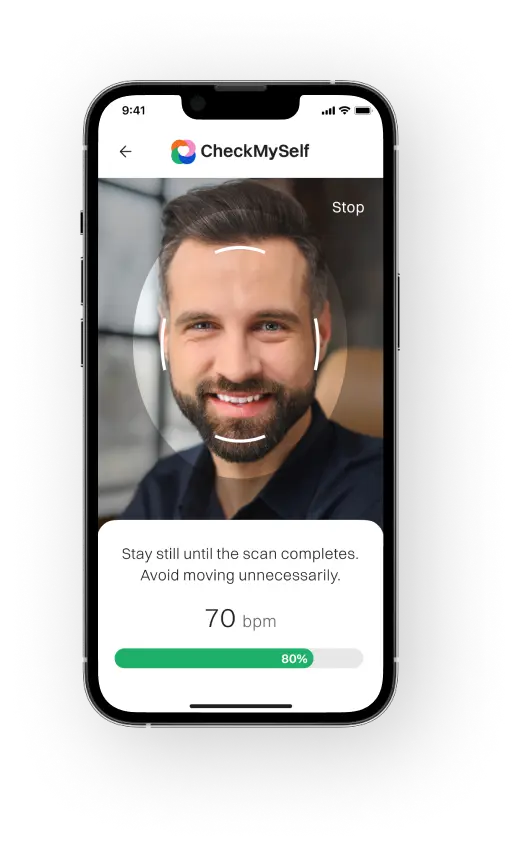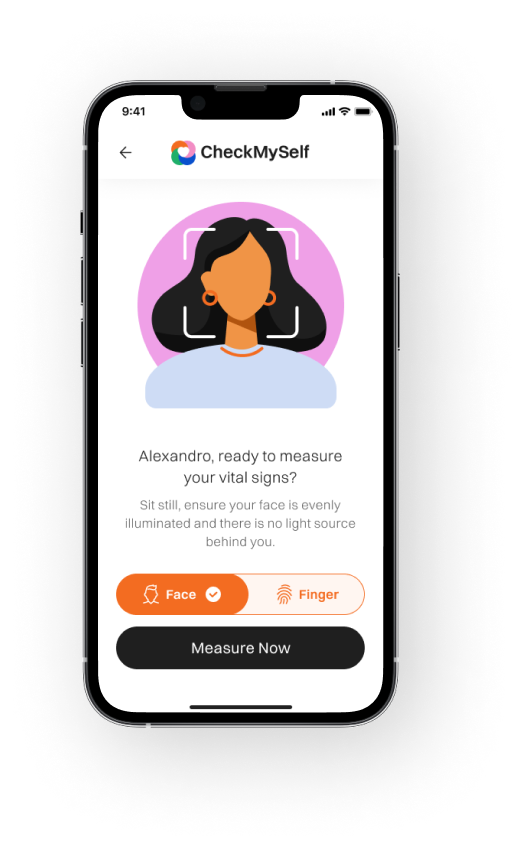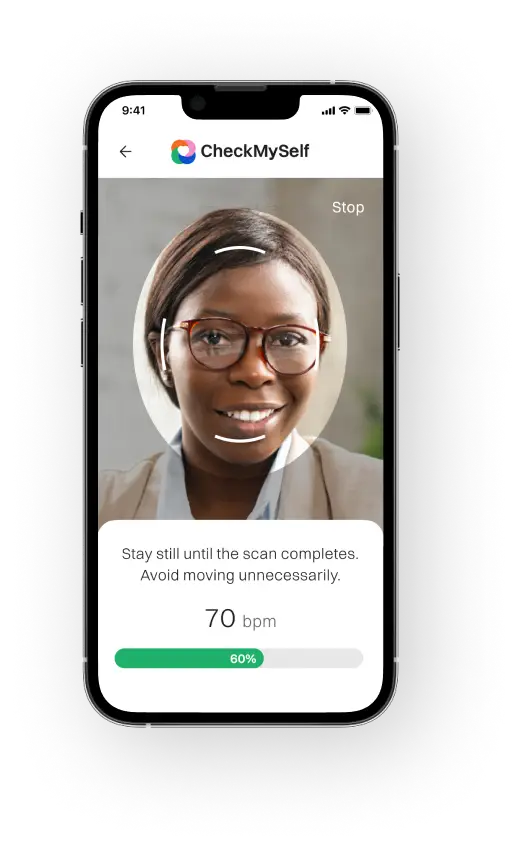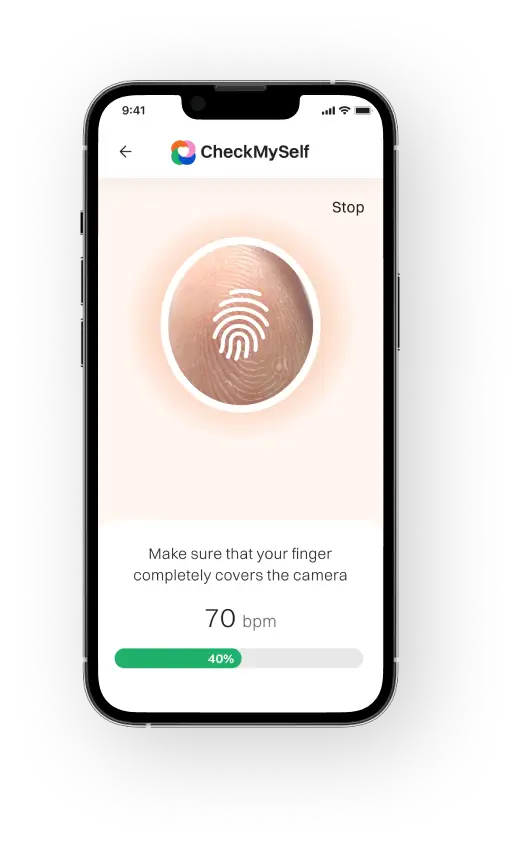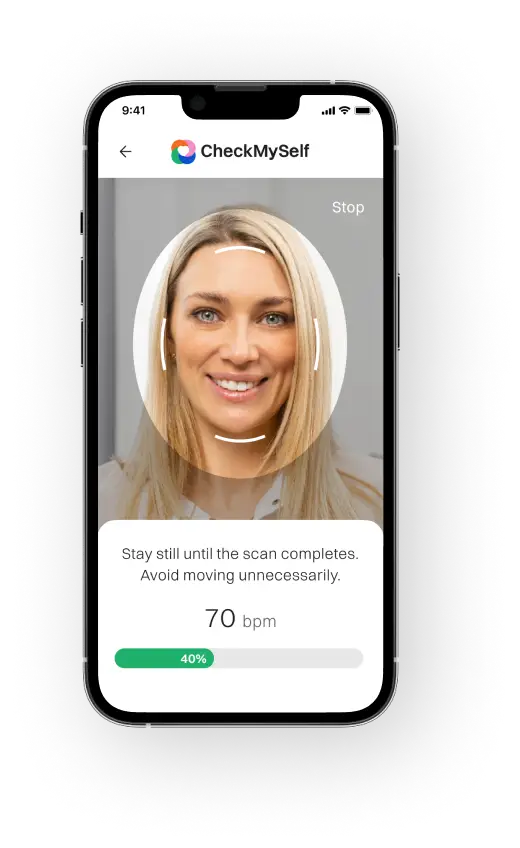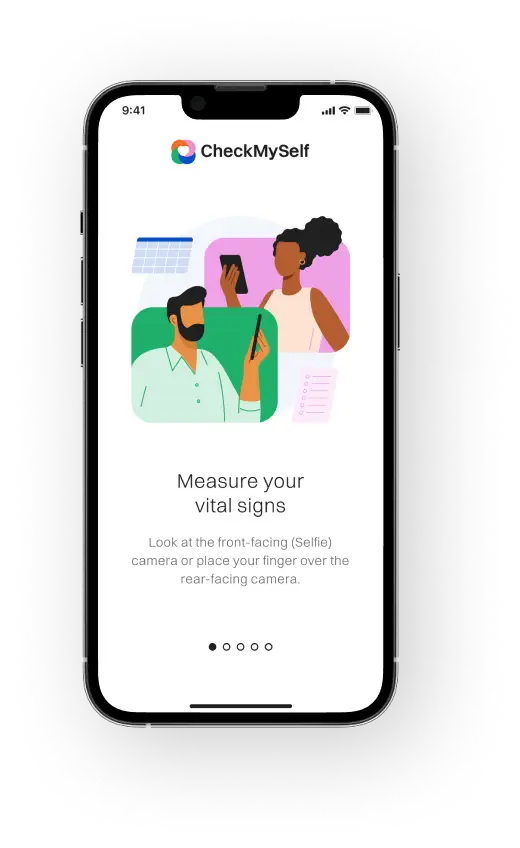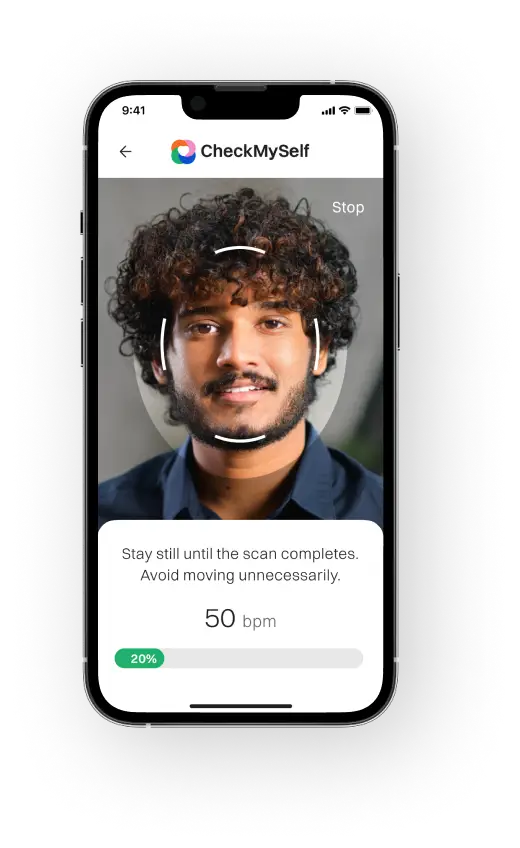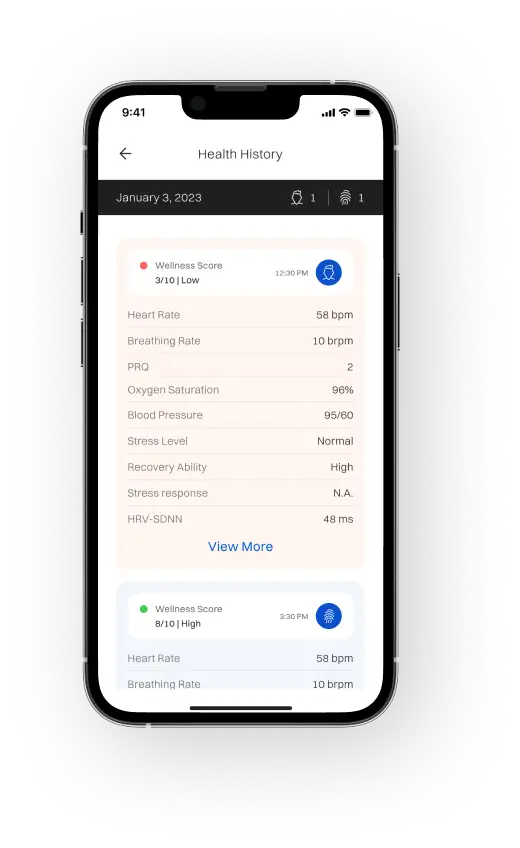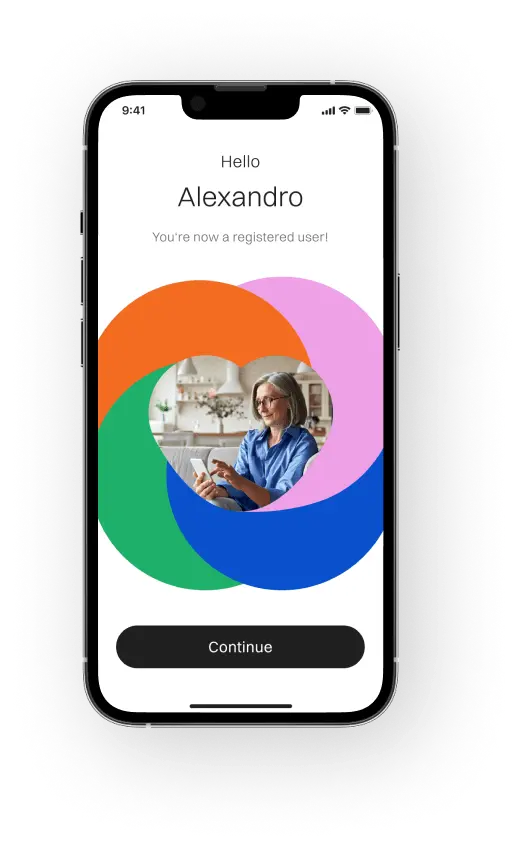 Why CheckMySelf?
Is good health important for you? Your vitals tell you more. Now, the high-tech App CheckMySelf.eu delivers vital signs measurements for any gender, age, skin color, anytime and anywhere. At low costs. In only one minute. By yourself.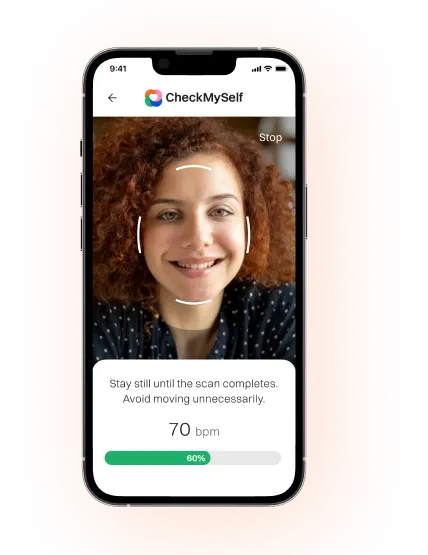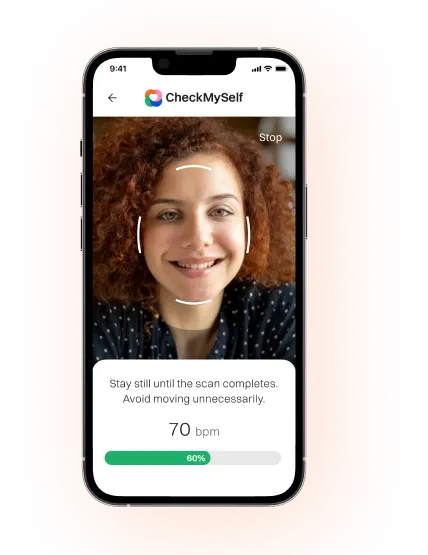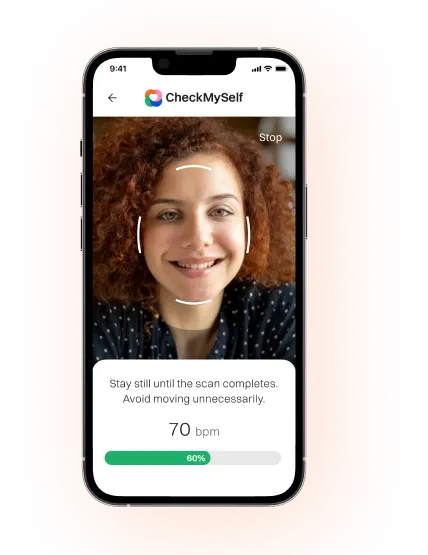 How we measure?
CheckMySelf analyses the video stream with advanced AI and deep learning algorithms, including computer vision technology and signal processing. We don't use identifiable elements.
What we measure

In about one minute, you can measure blood pressure, heart rate, heart rate variability, breathing rate, pulse breathing ratio, oxygen saturation, Hemoglobin and HbA1C, sympathetic stress, parasympathetic activity. Cholesterol and another 8 bloodtests will be added soon.
Why we measure!

Prevention is the best investment in your own health. Prevention is in your own hands. Selfmanagement is therefore promoted by governments and doctors. CheckMySelf is your personal toolbox to practice it. Saving time and costs. No wearables, no devices for measuring bloodpressure and oxygen etc. needed.
How accurate is CheckMySelf?
Our scientists and developers work constantly on accuracy of the existing vitals and adding more vitals. Click at Know More to see the latest performance reports. At this site we keep you updated about the newest added vitals.
About the Vital Signs
Click at one of the icons below to understand the vitals
Heart Rate

Breathing Rate

Oxygen Saturation

PRQ

Blood Pressure

Stress Level

Recovery Ability

Stress Response

HRV-SDNN

Hemoglobin

Hemoglobin A1c

More vitals are coming soon…
Benefits
CheckMySelf supports your self-management. From scientific research we know that self-management results in increased control, understanding your condition, asking the right questions to healthcare professionals and ultimately in better health and less consultations.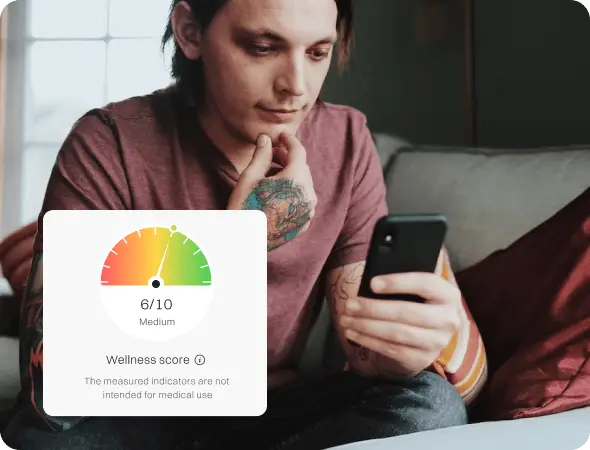 The Wellness score
The CheckMySelf Wellness Score is a risk score that might predict the cardiovascular risk of individuals. Knowing your risks enables and can motivate you to improve your lifestyle. The CheckMySelf Wellness Score is calculated based on vital signs measured by our technology. It is designed to be measured on a consistent basis under similar conditions so that users can monitor their numbers and trends over time.
Parameters and their ranges and risks

Normal Range
(Age 18+)

Health Issues Associated
with Abnormal Levels

Blood pressure
The pressure of circulating blood against artery walls

Systolic: < 120
Diastolic: < 80

Heart attack, heart disease, stroke, kidney disease, poor cognitive function, dementia

Heart Rate / Pulse Rate
The number of times a person's heart beats per minute

60-100 bpm

Stroke, heart failure

Heart Rate Variability
The variance in time between heart beats

Age 20-25: 55-105
Age 60-65: 25-45

Stress, risk of cardiac events, oncoming sickness, nutrition and sleep patterns

Oxygen Saturation
The amount of oxygen-carrying hemoglobin in the blood relative to the amount of hemoglobin not carrying oxygen

95% – 100%

Heart disease, interstitial lung disease, COPD, anemia, ARDS, pneumonia, sleep apnea

Breathing Rate
The number of breaths a person takes per minute

12-20 bpm

Anxiety, fever, heart problems, respiratory conditions including, COPD, asthma, and pneumonia

Pulse Respiratory Quotient (PRQ)
Heart rate divided by respiration rate, captures the complex state of cardiorespiratory interactions

4-5

Hyperventilation, cardiorespiratory issues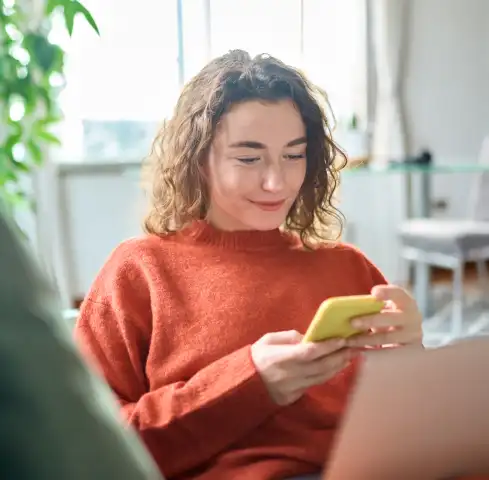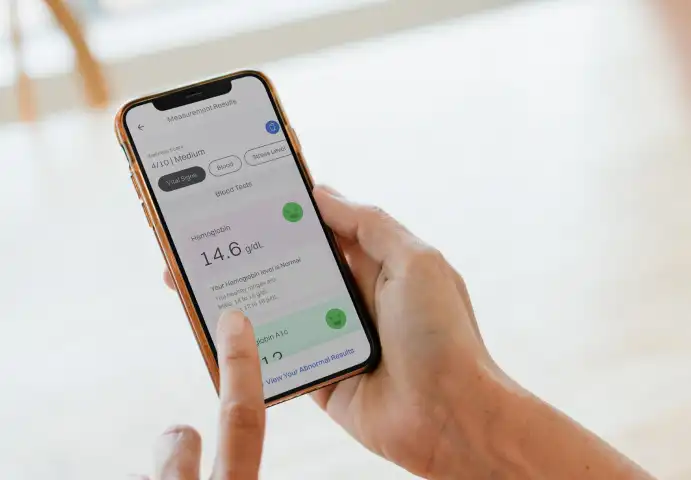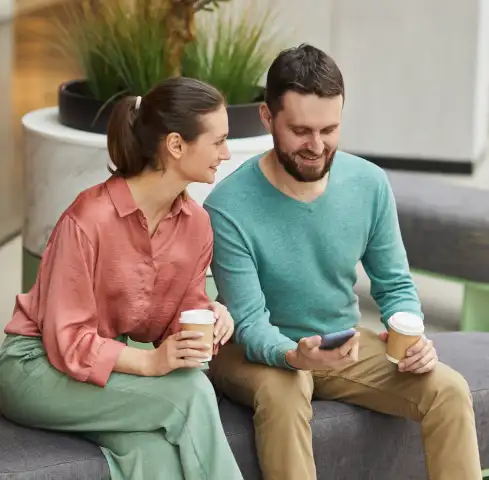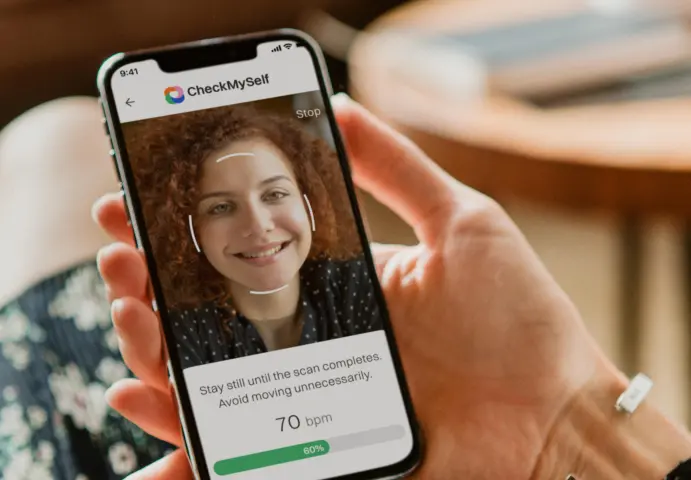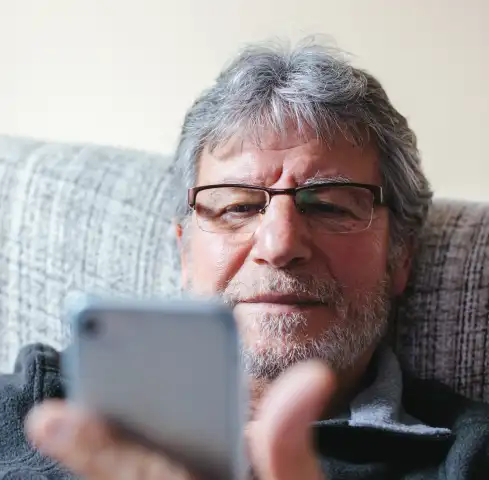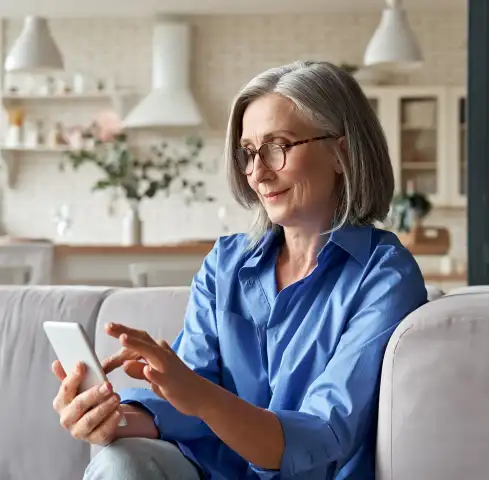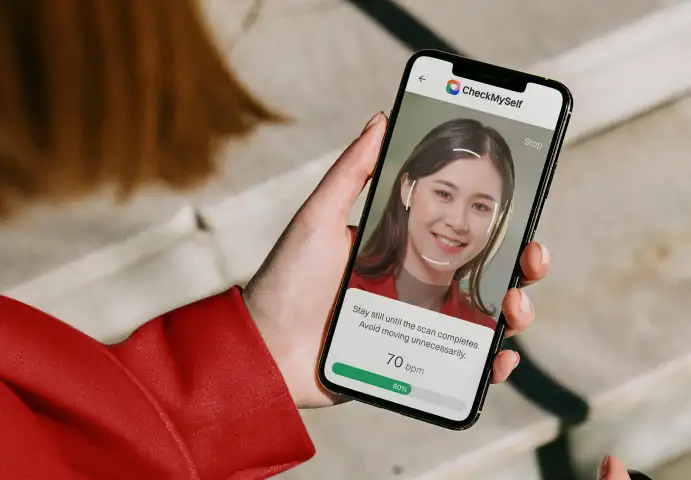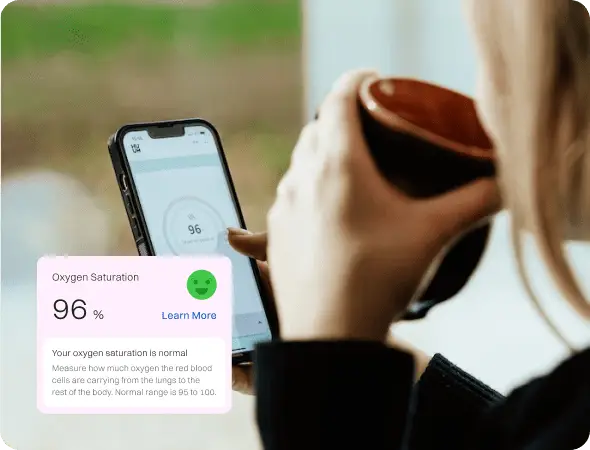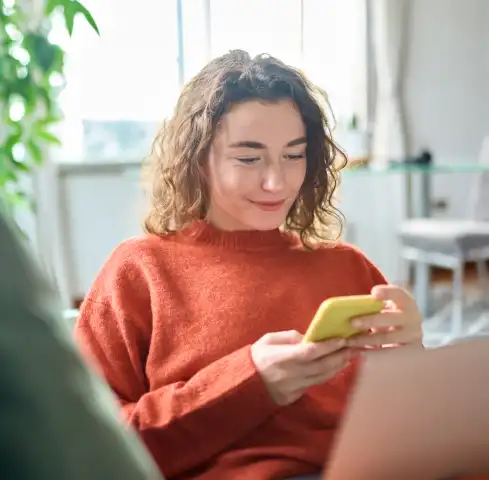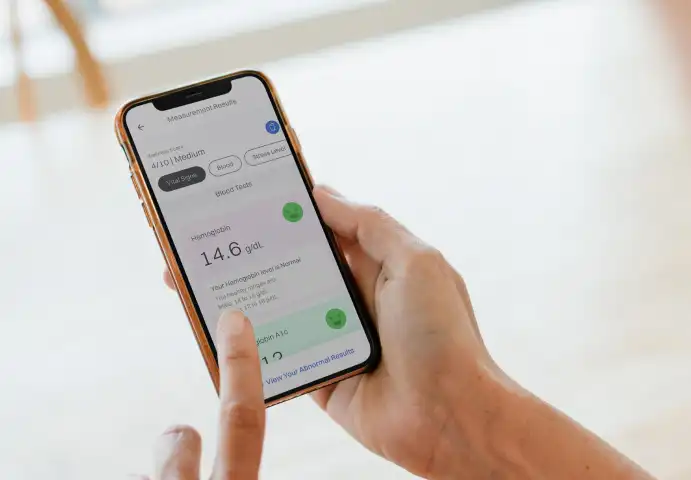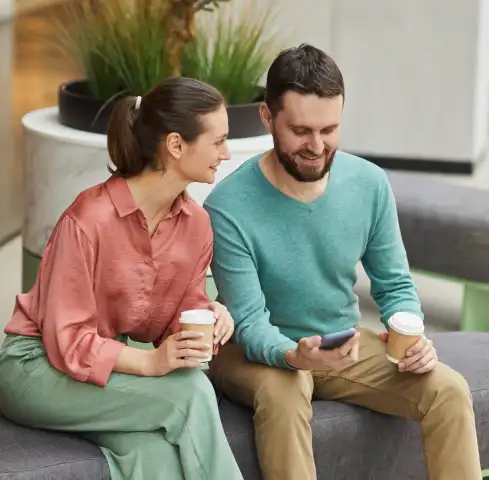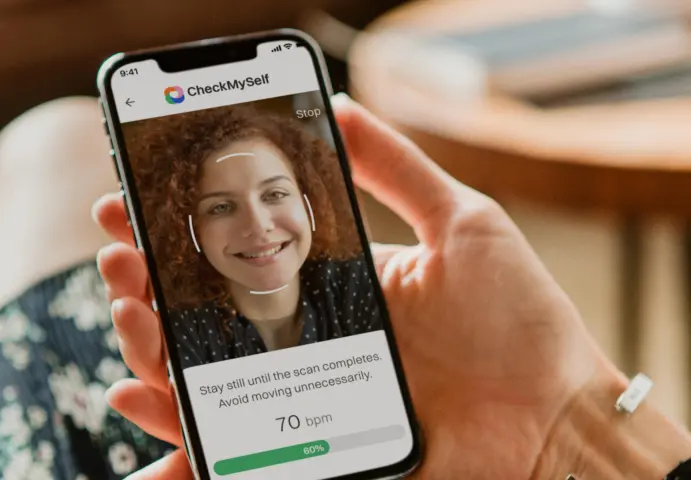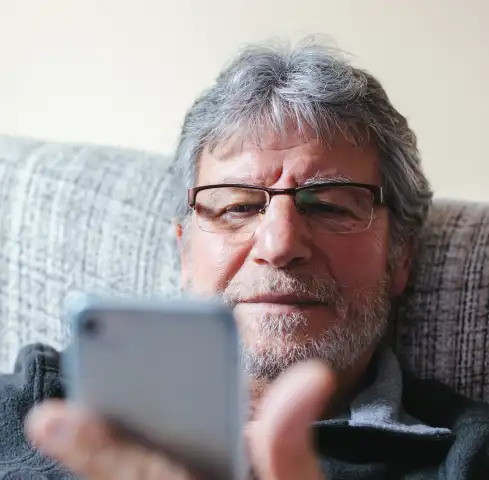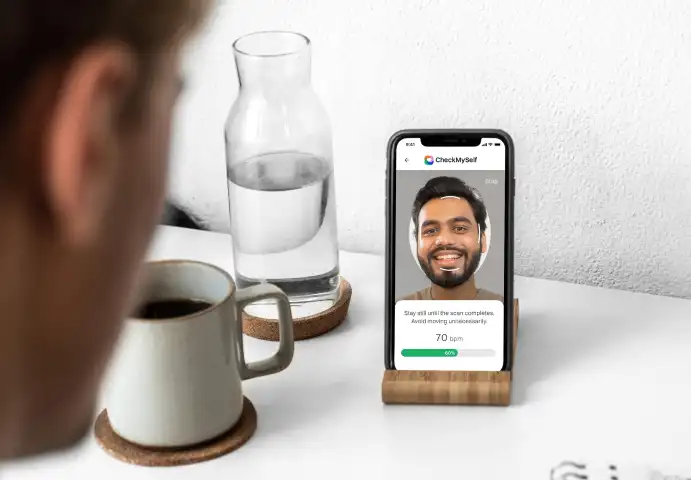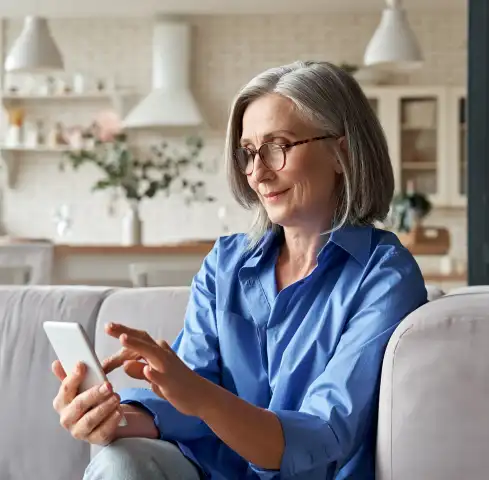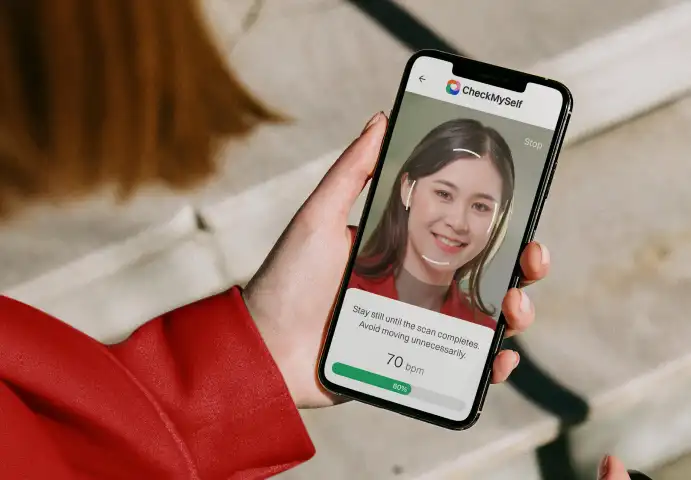 Our Plans
The first 2 scans are free of charge. If you like CheckMySelf, download the app  from the App Store or Google Play below. Choose between a monthly or annual plan
Monthly Plan
€3.45/month
€2.95/month
Annual Plan
€30.99/year
€30/year
*prices differ due to in app purchase policies
Our Customer Testimonials
"As General Practitioner I know that often too late diabetes is diagnosed. This app can diagnose it earlier and prevent damage."
Elvira S.
"Wow, with this app I know better and earlier how healthy I am. It gives me peace of mind"
Jerry O.
"I will buy this for my parents. They are old and vulnerable. Knowing their vitals, they will less consult their GP.
Rosaly B.
"This is really high tech. As sporter, I now know better which vitals need my attention for improving my condition"
Henry S.
Frequently Asked Questions
Click at https://www.binah.ai/research/  Our technology undergoes continuous testing, both in-house and in external medical labs and academic institutions as part of clinical studies. Our advanced signal processing allows for clean data, eliminating outlying information and providing a higher signal-to-noise ratio.


Can I e-mail the results to somebody else?
Yes, after a minute the measurement report is in your mailbox. If needed, you can share your measurements with  a doctor or somebody else.


Where are my results saved and is CheckMySelf compliant with GDPR?
Only at your own device. Nobody else can see the data, but you. 


Is CheckMySelf a medical device?
No, it;s a personal monitoring device. Based at your gender, weight, length and age. If you see a continious negative trend, consult a professional. Professionals will always use their own devices for their diagnosis or interventions. The accuracy of CheckMySelf's measurements is justifying to call or not to call a professional. In case, you doubt, don't hesitate to call a professional.
Another 9 bloodtests will be added to CheckMySelf in the near future. Not being a medical device, we can make them available immediately at low costs. 
[hfe_template id='405′]